FortiSandbox 1000D
รหัสสินค้า: FSA-1000D
สถานะของสินค้า : สินค้าพร้อมส่ง
รายละเอียดโดยย่อ
Deployment:
Easy Deployment
FortiSandbox supports inspection of many protocols in one unified solution, thus simplifies network infrastructure and operations. Further, it integrates with FortiGate as a new capability within your existing security framework.
The FortiSandbox is the most flexible threat analysis appliance in the market as it offers various deployment options for customers' unique configurations and requirements. Organizations can also have all three input options at the same time.
*ลูกค้าที่ซื้อ Advance Replacement จะได้อะไรบ้าง
1. สินค้าที่แจ้งเสียหลังจากได้รับอนุมัติให้ RMA ได้ จะส่งสินค้ารุ่นเดียวกันหรือดีกว่าไปให้แทน
2. หากลูกค้าไม่ได้ซื้อ on-site เราจะส่งสินค้าไปโดยทางขนส่ง
3. ลูกค้าที่ซื้อ On-site เราจะมีช่วงถือตัวที่เป็น Replancement เข้าไป พร้อมกับติดตั้งให้ตาม scope พื้นฐาน
Features:
VM Sandboxing
Complement your established defenses with cuttingedge capability — analyzing suspicious and high-risk files in a contained environment to uncover the full attack lifecycle using system activity and callback detection.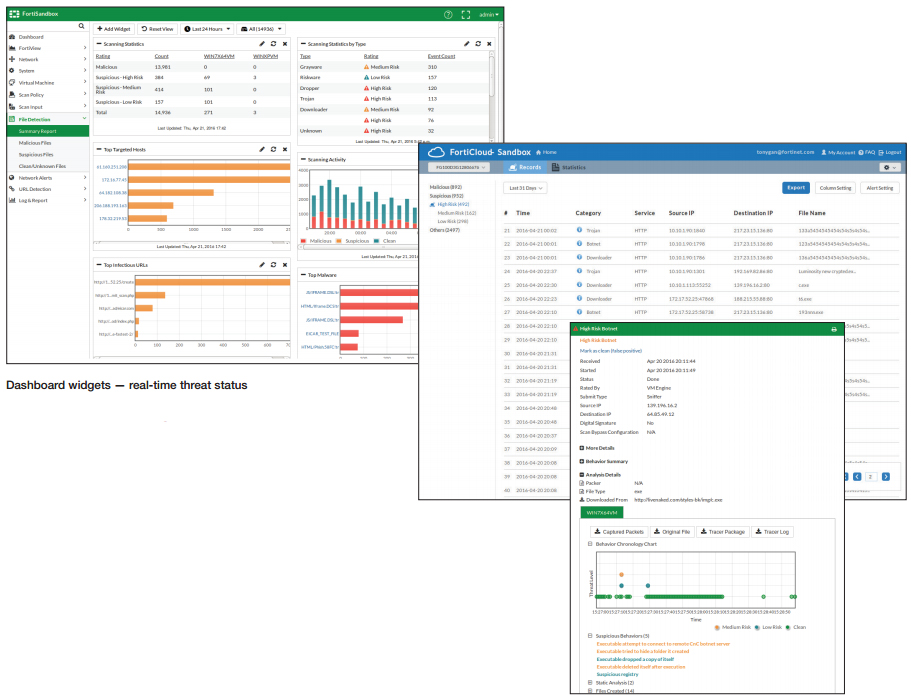 File Analysis Tools
Reports with captured packets, original file, tracer log and screenshot provide rich threat intelligence and actionable insight after files are examined. This is to speed up remediation and updated protection.
Remediation
Fortinet's ability to uniquely integrate various products with FortiSandbox offers automatic protection with incredibly simple setup. Once a malicious code is determined, the analyzer will develop and forward the dynamically generated signature to all registered devices and clients. These devices then examine subsequent files against the latest DB.

Multi-tiered file processing optimizes resource usage that improves security, capacity and performance
AV Engine
Applies top-rated (95%+ Reactive and Proactive) AV Scanning. Serves as an efficient pre-filter.
Cloud Query
Real-time check of latest malware information
Access to shared information for instant malware detection
Code Emulation
Quickly simulates intended activity
OS independent and immune to evasion/obfuscation
Full Virtual Sandbox
Secure run-time environment for behavioral analysis/rating
Exposes full threat lifecycle information
Call Back Detection
Identifies the ultimate aim, call back and exfiltration
Features Summary
Administration
Supports WebUI and CLI configurations
Multiple administrator account creation
Configuration file backup and restore
Notification email when malicious file is detected
Weekly report to global email list and FortiGate administrators
Centralized search page which allows administrators to build customized search conditions
Frequent signature auto-updates
Automatic check and download new VM images
VM status monitoring
Radius Authentication for administrators
Networking/Deployment
Static Routing Support
File Input: Offline/sniffer mode, On-demand file upload, file submission from integrated device(s)
Option to create simulated network for scanned file to access in a closed network environment
High-Availability Clustering support
Port monitoring for fail-over in a cluster
Systems Integration
File Submission input: FortiGate, FortiClient, FortiMail, FortiWeb
File Status Feedback and Report: FortiGate, FortiClient, FortiMail, FortiWeb
Dynamic Threat DB update: FortiGate, FortiClient, FortiMail

Periodically push dynamic DB to registered entities.
File checksum and malicious URL DB

Update Database proxy: FortiManager
Remote Logging: FortiAnalyzer, syslog server
Web-based API with which users can upload samples to scan indirectly
Bit9 end point software integration
Advanced Threat Protection
Virtual OS Sandbox:

Concurrent instances
OS type supported: Windows XP, Windows 7, Windows 8.1, Windows 10 and Android
Anti-evasion techniques: sleep calls, process and registry queries
Callback Detection: malicious URL visit, Botnet C&C communication and attacker traffic from activated malware
Download Capture packets, Original File, Tracer log and Screenshot

File type support:

Archived: .tar, .gz, .tar.gz, .tgz, .zip, .bz2, .tar.bz2, .bz, .tar.Z,.cab, .rar, .arj
Executable files: (eg: .exe, .dll), PDF, Windows Office Document, AdobeFlash and JavaArchive (JAR) files
Script files: .js,.bat,.vbs,.ps1,.cmd
Media files: .avi, .mpeg, .mp3, .mp4

Protocols/applications supported:

Sniffer mode: HTTP, FTP, POP3, IMAP, SMTP, SMB
Integrated mode with FortiGate: HTTP, SMTP, POP3, IMAP, MAPI, FTP, IM and their equivalent SSL encrypted versions
Integrated mode with FortiMail: SMTP, POP3, IMAP
Integrated mode with FortiWeb: HTTP

Customize VMs with support file types support
Isolate VM image traffic from system traffic
Network threat detection in Sniffer Mode: Identify Botnet activities and network attacks, malicious URL visit
Scan SMB/NFS network share and quarantine suspicious files. Scan can be scheduled
Scan embedded URLs inside document files
Integrate option for third partyYara rules
Option to auto-submit suspicious files to cloud service for manual analysis and signature creation
Option to forward files to a network share for further third-party scanning
Files checksum whitelist and blacklist option
URLs submission for scan and query from emails and files
Monitoring and Report
Real-Time Monitoring Widgets (viewable by source and time period options): Scanning result statistics, scanning activities (over time), top targeted hosts, top malware, top infectious urls, top callback domains
Drilldown Event Viewer: Dynamic table with content of actions, malware name, rating, type, source, destination, detection time and download path
Logging — GUI, download RAW log file
Report generation for malicious files: Detailed reports on file characteristics and behaviors – file modification, process behaviors, registry behaviors, network behaviors, vm snapshot, behavior chronology chart
Further Analysis: Downloadable files — Sample file, Sandbox tracer logs and PCAP capture
Standalone
This deployment mode relies on inputs from spanned switch ports or network taps. It may also include administrators' on-demand file uploads using the GUI. It is the most suitable infrastructure for adding protection capabilities to existing threat protection systems from various vendors.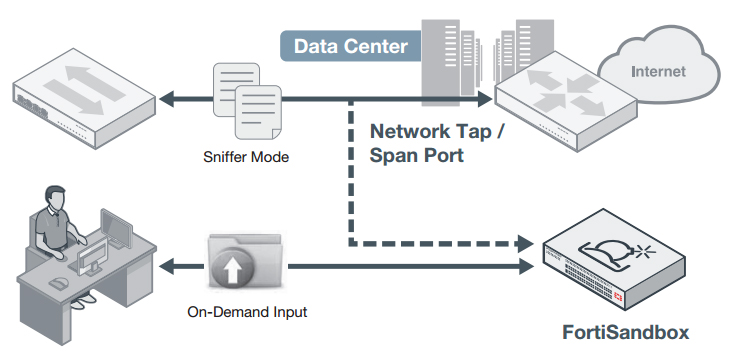 Integrated
Various Fortinet products, namely FortiGate, FortiMail, FortiWeb and FortiClient can intercept and submit suspicious content to FortiSandbox when they are configured to interact with FortiSandbox. The integration will also provide timely remediation and reporting capabilities to those devices.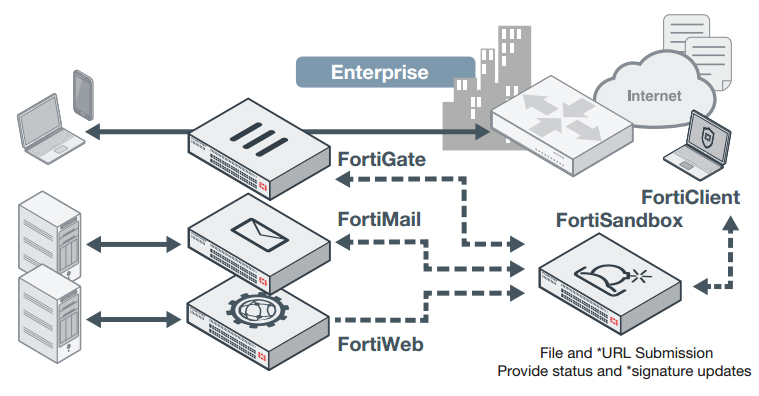 * Not applicable to FortIWeb
Distributed
This deployment is attractive for organizations that have distributed environments, where FortiGates are deployed in the branch offices and submit suspicious files to a centrallylocated FortiSandbox. This setup yields the benefits of lowest TCO and protects against threats in remote locations.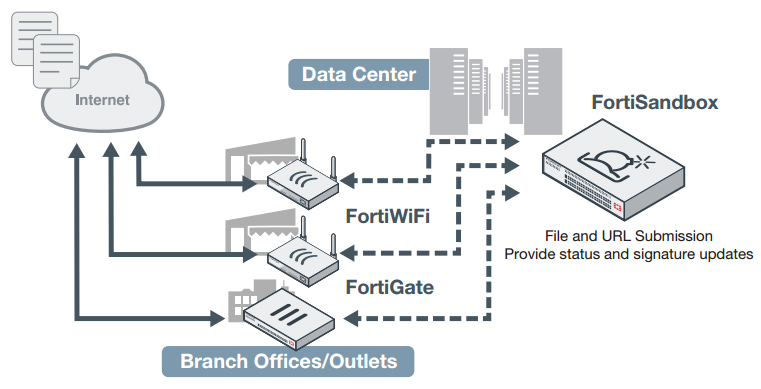 Highlights:
Administrative Domains (ADOMs) and Global Policy
Enables a primary administrator to create groups of devices for other administrators to monitor and manage
Administrators can manage devices in their geographic location or business division
Multiple FortiGate virtual domains (VDOMs) can be divided among multiple ADOMs
Granular permissions allow assigning ADOMs and policies to particular users
Administrators can only access devices or VDOMs assigned to them
Create device configuration templates to quickly configure a new Fortinet appliance
Within each ADOM, there is a common database of objects shared by all devices and policy packages allowing users to reuse similar configurations among a group of managed assets
Global Policy capabilities are available on all FortiManager hardware models and virtual machines
JSON and XML (Web Services) APIs
JSON API — Allows MSSPs/large enterprises to create customized, branded web portals for policy and object administration
XML API — Enables administrators to automate common tasks such as provisioning new FortiGates and configuring existing devices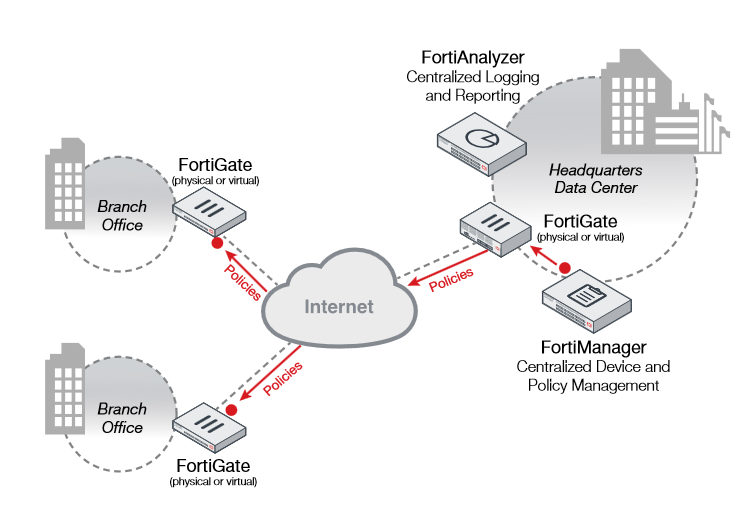 Locally Hosted Security Content
Hosting security content locally allows the administrator greater control over security content updates and provides improved response time for rating databases. Includes support for:
Antivirus definition updates
Intrusion Prevention updates
Vulnerability and Compliance Management updates
Web Filtering (select systems)
Antispam (select systems)
Command and Control
Manage devices and endpoint agents individually or as logical groups
Discover new devices automatically
Create, deploy, and monitor virtual private networks
Delegate control to other users with distributed administration features
Audit configuration changes to ensure compliance
Monitor, Analyze and Report
Access vital security and network statistics
Real-time monitoring and integrated basic reporting provide visibility into network and user activity.
For more powerful analytics, combine with a FortiAnalyzer appliance for additional data mining and graphical reporting capabilities
FortiManager Supported Devices
FortiGate and FortiCarrier Consolidated Security Appliances
FortiAP Wireless Access Points
FortiMail Messaging Security Systems
FortiWeb Web Application Security
FortiAnalyzer Reporting and Analysis Appliances
FortiSwitch Switching Platforms
FortiSandbox Advanced Threat Protection Appliances
เขียนรีวิวสินค้าของคุณเอง
คุณอาจจะสนใจในสินค้าดังต่อไปนี้